Commodities that require special or advance arrangement, packing, handling and in certain cases, documentation. Acceptance of this type of cargo are subject to specific regulations.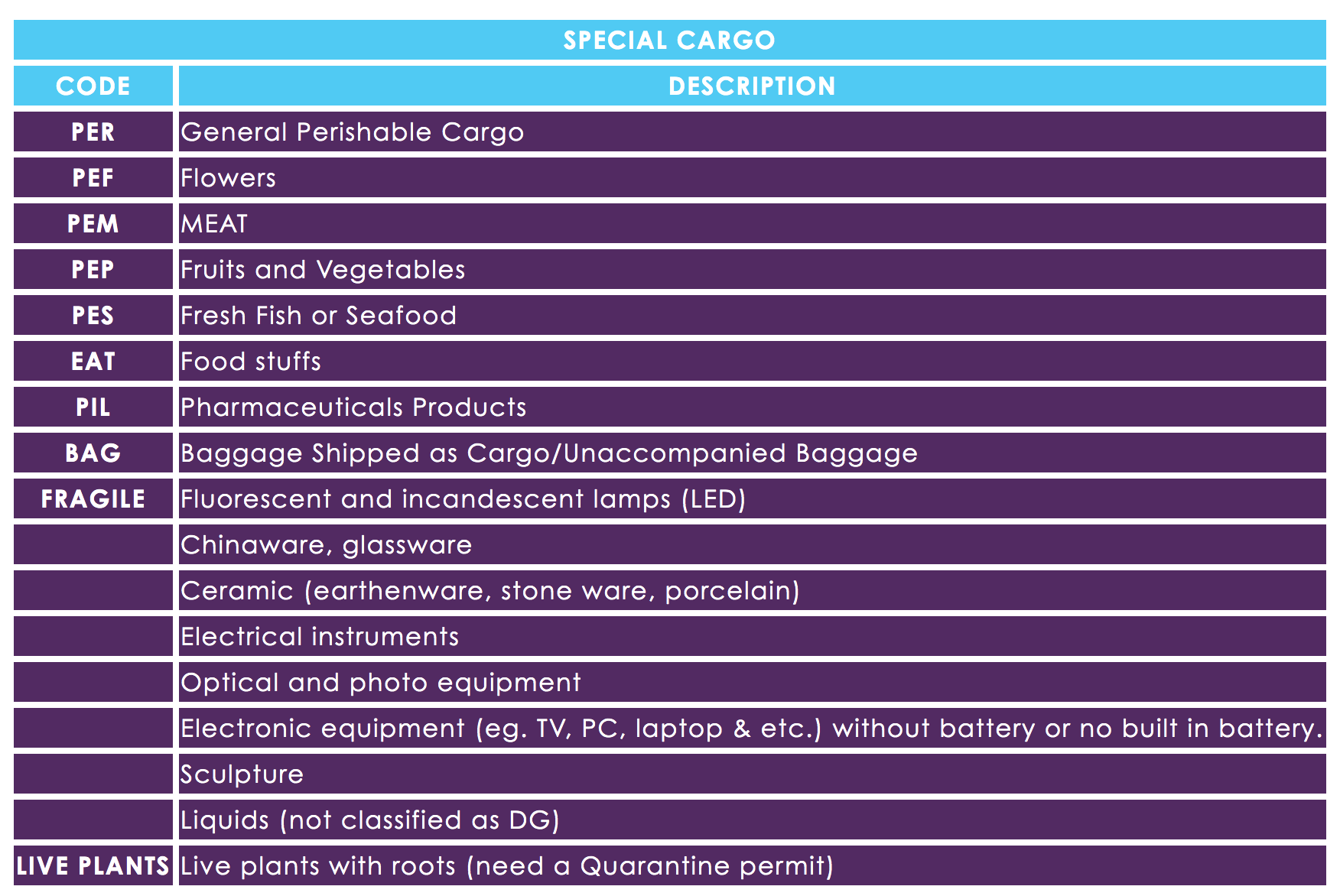 General Cargo
All articles or materials that are not included in the list of Special Cargo are considered General Cargo or General Commodity.
FAK – Freight of all kinds except Special Cargo
For more information you may call us at:
Cargo Reservations
Land line number (+632) 5318-5981
Mobile: +63 917 814 7943
Email: cargo@cms.air-swift.com
OFFICE HOURS:
Mondays to Sundays (including holidays): 8:00 a.m. – 5:00 p.m.
CARGO ACCEPTANCE CHECKLIST
NATURE OF GOODS
1. Non-dangerous goods/non-radioactive/non-wet/non-live animals
PACKAGING
2. In compliance with PI Y963 (DGR page 576)
SIZE AND WEIGHT
3. Not more than 25 kilos by weight per package (loose cargo)
4. Not more than 70 kilos for cargo in a wooden crate.
5. Not more than 110cm in Length
Not more than 45cm in Width
Not more than 110cm in Height
*Check weight and balance manual on dimension for re-positioning.
MARKING AND LABELLING
6. Shipper and Consignee are visibly marked
7. Contact number/s
DOCUMENTATION
8. Materials Safety Data Sheet (MSDS) if applicable
All cargo is subject to manual inspection by Screening Officer here in ALPAP with the presence of the shipper. Kindly bring an extra packaging tape for the final seal of the boxes/packages.
The airline has the right to refuse carriage of cargoes which is doubtful if the shipper unable to meet the standard procedures of the Operator.