A loyalty program of AirSWIFT Transport Inc. rewarding our customers through earning points from purchases of air tickets, AirSWIFT Picks and shipping of air cargo. Your earned points can be redeemed for AirSWIFT tickets.
Enrollment
2. Open to any person who is at least two (2) years old. Parent or legal guardian consent is required for the minors. Infants are not qualified to enroll in SWIFT Rewards Club program.
3. Families, corporation and/or judicial entities cannot be enrolled as a member.
4. The enrollee should ensure that the name on the enrollment form matches the name reflected in his/her passport and other travel documents for the proper crediting of rewards.
5. Member has a responsibility to update his/her SWIFT Rewards Club account of any change in name and contact details.
6. Membership is not transferable in any circumstances.
Earning Reward Points
1. The member may earn redeemable reward points through AirSWIFT flights, AirSWIFT Picks products and Cargo shipments.
2. All reward points shall not be subject to expiration provided that the member continues to be an active SWIFT Rewards Club.
3. A qualifying transaction can be credited only to the account of the member whose membership details match with the information appearing in the transaction record.
4. Members are required to check or view the SWIFT Rewards Club accounts through AirSWIFT website at
www.air-swift.com
which sall constitute as sufficient notice of your account balance.
Earning Flight Reward Points
1. For automatic crediting of reward points the member must log in his/her account on
SWIFT Rewards Club
upon booking.
2. A qualified flight can be credited only to the account of the member who used the qualified revenue ticket regardless of who paid for the ticket.
AirSWIFT's Flight Reward Points Accrual Table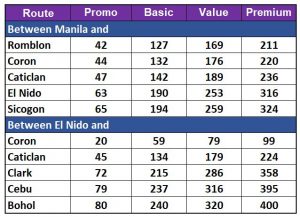 Earning Non-Flight Reward Points
Purchasing from AirSWIFT Picks specialty store and booking of AirSWIFT Cargo shipments as commercial in and out El Nido.
Redemption
1. The member may redeem travel awards using the earned reward points from his/her account. The member may also book another person/beneficiary as long as they are on the same PNR and the reward points are sufficient for their booking charges.
2. The use of travel awards shall only be allowed on regular scheduled flights of AirSWIFT subject to availability of seats and may vary among destinations, flight numbers and travel dates.
AirSWIFT's Standard Award Ticket Per Route